……………………   The Year is 1998 ……  Fort Lauderdale  …….. Victoria Park, Federal Highway  ……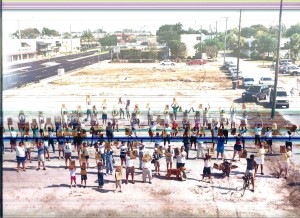 …………….    That's about 100 Fort Lauderdalians, staging a protest in the 600 block of N.Federal Hwy. We were pissed that  there was no grocery store anywhere near Victoria Park/downtown …..
……………  We are holding up Publix grocery bags. We took a big 3 by 5 poster of the picture to Publix headquarters in Lakeland ….    The effort kind of worked – today there is a Winn-Dixie plaza !
………  See if you can find me, Cal Deal, son Timmy, Bob Oelke, Ted Fling and others in the photo !