…… The hearing for the former Fort Lauderdale Police Officer trying to get his job back after being fired for racist texts ended today …..
….. fired by Police Chief Frank Adderley
…….The hearing lasted 3 days, and after the Judge/Arbitrator heard what we spectators heard, I think the former Cop better be  enjoying his new job as an electrician!   …… Read on !
.. … The former Cop's name is Wells ….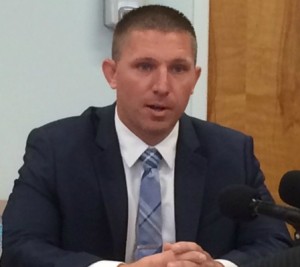 ………………..Wells
…… Wells and four other fellow Officers were linked  together in a secret texting club, with racist and  homophobic texts, and homemade movies deriding blacks, gays and the like  …. downright despicable behavior by anyone   ……. especially  Cops !!
….   Here is an example of the texts that they spread between them as they rode the streets of Fort Lauderdale, hired  to protect and serve !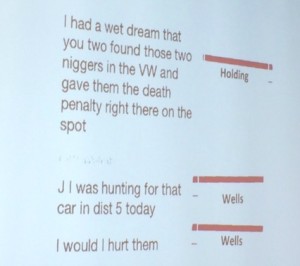 …… Wells explained this text by saying that in his response to Officer Alvarez, he didn't mean "physically" hurt them, said he just meant he might write them a ticket ( seriously, he said that !)
……. This afternoon was the highlight of the  three day case – Wells' testimony…. About 60 people were in the room ( third floor City Hall), comprised of mostly black citizens, some Cops, and a few white guys like me   …. Notably in the room was Ted Galatis, (you might remember the former Wilton Manors Commissioner was caught yelling racist taunts to a car of blacks a few years back)…. . Also in the room was former building official Greg Brewton, builder Bob Young, and NAACP officials …..

…… Here is another text that was on display for all of us to see just behind Well's head….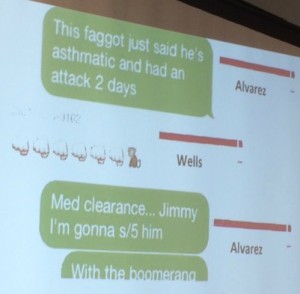 ….   Wells explained that the term s/5 meant "kill him" ( the suspect), but that he didn't think his fellow Cop Alvarez "really" meant he would kill him, or he said he would have "done something" !
…………  The 5 foot by 5 foot display of Wells and his secret frat's texts, plus the relentless tough questioning by the City's attorney ( not Cynthia Everett) seems to have sealed his fate…
….. The Judge has 30 days to rule whether the Cop gets his job back   ….. but I can't imagine it  ….. and certainly hope not !!