…. ….. Have you forgotten that the City suspended four Police Officers a few years back for posting terrible  anti-gay and anti-black messages on the internet?
…… well guess what ?   …   On Wednesday, (Feb. 17th)  at 9 am …. on the third floor of City Hall, those same Officers might get rehired! … really !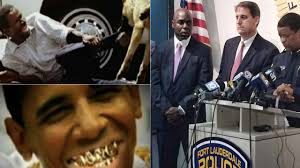 … there will be an arbitration hearing where those Cops will ask for their jobs back, probably saying they are reformed racists and homophobes …
….  And what's even worse  … I heard that at first, the City Attorney suggested not opening the  hearing to the citizens  …. really !
….but that decision was reversed, thank God, and you can attend the meeting….I'm going, because nothing could be worse than rehiring those Cops  …… we are not the kind of City that should allow this type of behavior  ….  Can you come and join me?   …see you Wednesday morning….9 am  ….3rd floor ….City Hall
……………