….. Former Fort Lauderdale City Commissioner Cindi Hutchinson fell about as far from grace as is possible, now she has left town.
……   Hutchinson served on the Commission as the District IV Commissioner from 2000 until 2009, when she started a run for Mayor, but bowed out after encountering a charge of public corruption for accepting home improvement gifts worth $14,000 from a developer.
Hutchinson was convicted and served 2 months and 20 days in jail…
…..  Hutchinson never returned to public life after serving her sentence. She is on probation until 2018.
Now she has left Fort Lauderdale for Hollywood.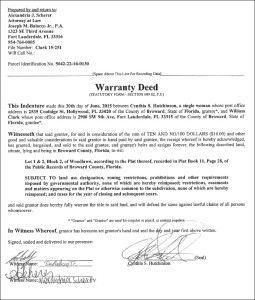 …… Hutchinson did a lot of good work as a neighborhood activist and City Commissioner, but lost sight of the rules somewhere along the line  ….. Now that is history, and Cindi can have a fresh start in a new town… Good luck !