The Fort Lauderdale Police Chief is on a mission.
     Chief Frank Adderley, who has been the Chief of Police for about 7 years,  lives in the modest neighborhood where he grew up, Dorsey Riverbend, which is just south of Sistrunk Boulevard.
But his attention has turned to the neighborhoods north of Sunrise Boulevard.
That is where the crime is highest in the City, and Adderley has been out in those neighborhoods, and says he is personally committed to solving the hefty problems there.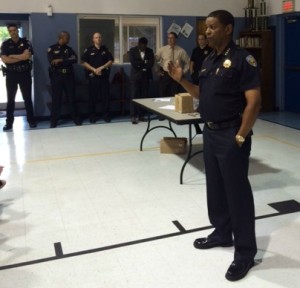 First, Adderley called the leaders of South Middle River, Middle River Terrace, Lauderdale Manors, LakeRidge, and the 13th Street Alliance to a meeting at the Lauderdale Manors community center, and unveiled new strategies. Department brass  showed the attendees pictures of a few dozen felon juveniles that have been burglarizing 100's of homes in the area, and spoke about the Department's plans.
Then he talked about the  SmartWater program, which the City is expanding to Lauderdale Manors and Middle River Terrace, after successful results from the pilot program in South Middle River.
This week, Adderley took his show on the road, door to door!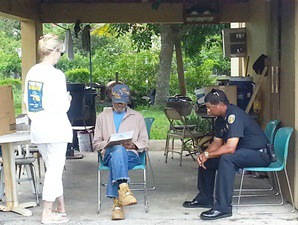 Adderley and SmartWater reps walked  Saturday in Lauderdale Manors, explaining the program to homeowners, and signing them up.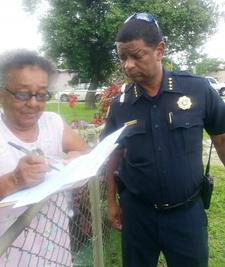 Gotta love it !  ……. Good Luck Chief!