Commissioner Trantalis pictured above
Commissioner Dean Trantalis, on Tuesday,  asked his colleagues on the Fort Lauderdale City Commission to vote in a pay raise for the Mayor and the Commissioners, to take effect next March, at the next election ( Trantalis is expected to run for reelection )…. The pay hike request was enormous, fifty percent pay raise for the Mayor spot, and 40 percent for Commissioners… This would make their salary far greater then all the salaries of all the Commissioners in Broward County ..
In the  election next  March, and only Trantalis and Commissioner Mckinzie can run for office then, as the rest of the Commissioners are term limited in their seats  …
Trantalis clearly wants more money. He is a very successful attorney in Wilton Manors, but wants the taxpayers to dig in deeper for him if he decides to stay in elected office… Trantalis complained at the Commission hearing that he has to go to night meetings, talk to developers, spend a lot of hours as Commissioner.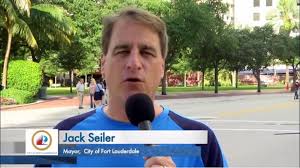 Mayor Seiler disagreed with Trantalis on the pay raise… Seiler said he couldn't support the pay raise…. Commissioner Rogers and Commissioner Roberts also voted no…. Dean was upset  …
Word on the street says Trantalis was considering a run for Mayor, but now, after he couldn't get the big pay raise, maybe not !!!