Have you seen it?
…..Perhaps the world's most attractive roundabout, and I'm not kidding   …… It is on NE 13th Street, a road with a troubled past, but one that  looks like the troubled past is on it's way out just as this lovely roundabout is coming in   …
Ready ?? …………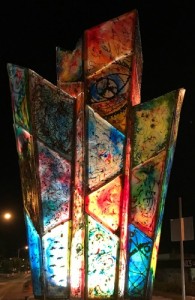 Wow  …..   that is really something….It's the giant Unity Beacon, a $100,000, 14 foot tall art piece that's tucked safely into the middle of the roundabout…..
It was crafted by artists, Todd and Gils, and the individual panels were sketched by different members in the community over the last few months   …… Here is one panel as it was being done…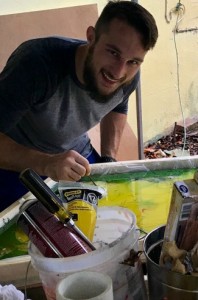 That's Tim Smith, the younger, preparing his piece last month   ….
……. So come over to 13th, check out the Unity Beacon, shop at the cool thrift store Oddballs, have a coffee at Warsaw, check out some of the art in the area  …… I'll keep an eye out for you!