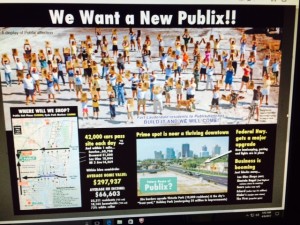 …thanks to Cal Deal, who kept this copy of the actual 3 by 5 foot message board that I took to Publix headquarters in Lakeland so many years ago ( that effort didn't pan out, but at least got Winn Dixie to open a new grocery store there)  …..At the time,  Publix actually said that part of Fort Lauderdale was to scary for a grocery store (short sighted ?)   ……. ……
….  And many of you spotted others in the photo  … Do you see Pat Mayers (deceased), Dean Trantalis, Mark Ketchum, Butch Neideritter, Mike Ferber, Floyd Johnson ( former City Manager), Gus Osterle ( deceased). Roger McKee ( deceased). Bob Pignataro, Bob Notti ( deceased), Steve Jacobson, Mark Warner, Hans, Alva White (deceased), Jim Kevern and Bob Oelke?
………… I'll be back soon with my opinion of current City Manager Lee Feldman   …….
……………  Tim