Many of you know our dearest friend Marge Anderson. She is one of the most decent, pleasant, caring, involved and smart Fort Lauderdale residents ever !…..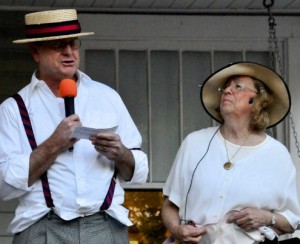 Marge playing role of Ivy Stranahan in Smith history play !
So when Marge went out to Seattle to visit her son this Christmas, and thought she was having a stroke, (that turned out to be brain cancer), we were all totally aghast – beside ourselves. Marge has been a friend, an activist, a neighborhood President ( treasurer, secretary etc.), served on many City Boards, belongs to the 1919 Club, volunteers for Insight for the Blind and on and on, and is just plain well known and highly respected around these parts …
She is also  my best bud, and when she called to give me the tough news, I said " I'm coming out" … "No no she said, you've got a campaign to run"  ( that's how Marge is).  So I hung up and booked a flight to Seatlle  ..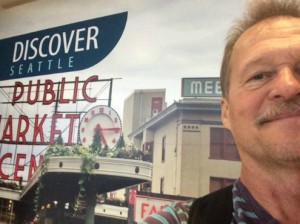 (I arrived at the airport, and, just as an aside, the Seattle WAVE was zooming by  – yes, out there it goes to the airport, what a concept !!)

I got a rental car ! …..
Before leaving Fort Lauderdale, I had put word out to all her friends that I was going…. I told them to bring a card or note or something to me that I could take to Marge from them   ….. They poured in  …..  On my first night there, I got to her son's house and dumped the load of letters and well wishes on their kitchen table  …. She was quite pleasantly surprised  .. We read them all. I had  told everyone that Marge said no crying , so the letters were fun, and we laughed quite a bit  …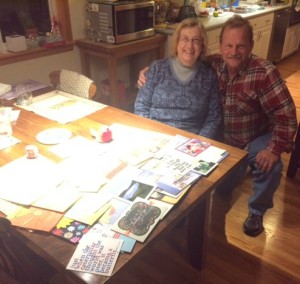 Early the next day I picked her up for a full day of fun, and much serious talking  …. She gave me the full lowdown, all the details ……  I think Marge is ready for what is to come ….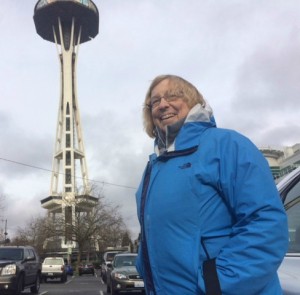 We just roamed around – explored and talked…… The Space Needle, the fish market, a long lunch ( with wine !)
She explained how the radiation would start very soon, that she is staying out there for treatment, but wants to be home ASAP, misses her busy life …..  We decided together that she would beat this beast, and I learned that she had already started to document the whole rotten experience, to help others …..  She said I could tell the story of her bravery and determination….
At the end of the second day there, I had to get ready for another long flight back home ….. I asked her if there was anything she needed or wanted  ….  She casually said she didn't think the treatments would be so tough, but somehow inserted, kinda under her breath, that pot was legal in Washington State  …..  I googled pot shops near the area and there just happened to be one two blocks away !  ….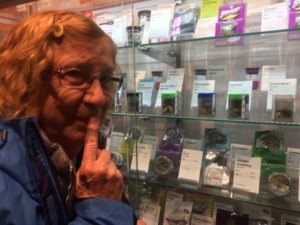 Marge went back to her son's house with a nice bag of peppermint patties ( they're pretty creative out there) …
So pull for Marge however you can, send her an email to margery1@bellsouth.net, and she and I will keep you informed…….
Tim