In case you forgot, I am in the middle of a run-off for Fort Lauderdale City Commissioner….
And the  one thing that I have been reminded of about politics  is the Latin root of the word –   …………….   POLI …… meaning many, ………..  and ……………. TICS ……  meaning blood sucking insects !!
Yes, it can be a rough and tumble business, this politics, here is just one example … The signs you see littered about for we candidates are not cheap ( about 4 bucks each) so when I realized that at least half of the 400 signs I've purchased had been stolen, I had to think of something !
Goop …!      ……This sign ( all my signs only go on private property, with the permission of the owner), has seldom lasted a week, so I brought out the good old  goop,….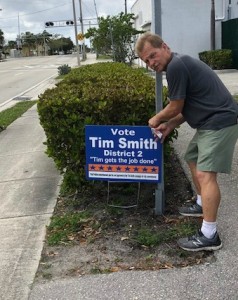 I glued it six ways from Sunday, and finally to the iron pole beside it  🙂
It will probably be gone tomorrow ……….
PS   …. Please send me some money so I can buy more signs 🙂
[wpedon id="1741″]
Paid for and approved by the Tim Smith for Fort Lauderdale Commissioner campaign