….. While waging a political campaign is no picnic for sure, there are many bright spots that occur, and some new endorsements have come in lately that have me smiling ! ( I'll tell you in a minute)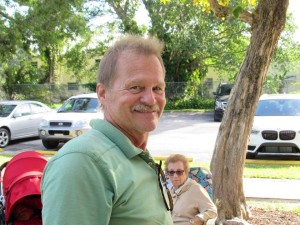 I have referred back to my watch word, to make sure I take it all in good measure –
hu·mil·i·ty
noun
noun: humility
a modest or low view of one's own importance; humbleness.

………………………………………………………………………………………

…… It's the people that you represent that are important, and I hope I get the chance soon, the primary coming just next Tuesday, January 16 ……

…… So recently a couple of new big supporters joined the list …. Jackie Scott ( former President of the Council of Civic Assoc) ……  Commissioner Romney Rogers, Mayor Jack Seiler  ……. and former Police Chief  Frank Adderley  …..  humbled !

Here is the big list – please let me add your name !

………………………………………………………………………..

Nina Randall ( former Middle River Terrace Pres)

Tim Schiavone ( Parrot Lounge)

Rob Edlin ( Flagler Village)

Howard Steinhold ( Seven Isles)

Vicki Mowrey ( Central Beach)

Abby Laughlin ( Central beach)

Steve Jacobson (former VP Lakeridge)

Marge Anderson (former Pres Middle River Terrace)

John Aurelius ( former Ft laud CC )

Ron Weinbaum

Logan Ritter ( MRT)

Jen Brugman (MRT)

Ross Parker ( Call of Africa)

Pastor Petit Frere

Ben Session ( former pres SMRCA)

Sal Gatanio ( former pres SMRCA)

Katherine Barry (past Pres CCA)

Charlie Ladd- small developer

Lorraine Saunders ( past Pres MRT)

Maureen ( Eat the Tea)

Donna Collins ( sec. SMRCA)

Cindy Smith – wife

Timmy Smith- son

Frank Palenco ( House of Art)

Rev. Luke Harrigan

Pastor Diane Mann

Dave Justin ( former treasure MRT)

Randall Klett ( former Prres MRT)

Mark Hensel ( former Pres MRT)

Sean (Le Boy)

George Mihau- newsletter publisher

Chuck Gregory – Board of CCA

Michael Haerting ( Cycle Party)

Chris ( cycle party)

Johua Tiktin ( Mass District)

Mark Hartman ( former Pres MRT)

Don Crinklaw- reporter

Elaine Viets ( famous local author)

Louise Birminham – MRT

Steve Greer – MRT

Gail Jacobson – Lakeridge

Hubert and Terry (SMRCA)

Rob and Carmen Smith (SMRCA)

Rayon Piper ( VP of CCA)

Jessica Piper – MRT

Dan Lewis – former mayoral candidate !

Tore Heubel – MRT

James Brady

Robin Merill

Doug Snyder

Caldwell Cooper

Rocky Bowell- Pride Factory

Justin Greenbaum – CRA

Derrick Caglianone – 13th Street

Pam Caglianone- 13th Street

Amy Jones Hamilton – former Pres. Laudergate Isles

Vicki Eckels- – also District 4 resident supporting Ben Sorensen

Barry Curtis – MRT

Diane and Bill Smart- preservationists

Bob Oelke

Neysa Rich Brady

Jack Moroney – 13th Street

Harris Soloman-

Howard Elfman – former Dist II candidate !

Rob Stiegle- small developer

Linda and Karl Shallenberger

Mel Lenet- 13th Street

David and Susanna Coleman – MRT

Cliff and Michelle Stickler – MRT

Ray Thrower – SMRCA

Tom Rose

Jim Ober

Richard Eberhard – MRT

Steve and Beverly Stahl – MRT

Nick Saknofsky – former candidate

Brad Laird _ SMRCA

Frank Link – Central Beach

Ray Parker – Parker Playhouse

Michael Madfis- architect

Michael Ferber – former candidate Dist II

Anthony Abbate- famous guy

Dil Hatchette – MRT

Dan Murphy – MRT

John Day- famous guy

Marc Dickerman

Mark Lambert = Central Beach

Darrin Mowrey – Central Beach

Tony Esposito – Flagler Village

Marilyn Hurst –

Mike Tucker – President FOP

Genia Ellis

P.J. Espinol – SMRCA

Nicole and Janette – SMR

Dick Ellis

Diana Centorino – fmr. P&Z

Percy Johnson

Tom Recca- CityView

Mike Moscowitz – former candidate Dist. II

Christine Jones – VP-  Lauderdale Manors

Fenel Antoine – Haitian Community leader

Jeff Torkleson – Bike Project

James Campbell

Tony Curatolo

Marie McGinley – South Middle River

Doug Blevins – former Pres SMRCA

Bradley Decklbaum

Linda Gibboney – former Pres SMRCA

Ralph Rhiel – S Fla. Tourism Council

Luis Castillo – former Pres SMRCA

Fred Stresau – Infrastructure task force

Terri Hayes – Victoria park

Scott Maclaren – Pres. Stiles Corp.

Bruce Keno

Brian Keno

Jim Ellis – former Pres. Lauderdale Beach

Par Sanda – NBRA

Tim Petrillo – restaurateur

[wpedon id="1741″]

Paid for and approved by the Tim Smith campaign for City Commissioner, District II, for Fort Lauderdale !