The conventional wisdom was that Charlotte Rodstroms' second attempt to become a Broward  County Commissioner was all but dead, until last week.
Follow me now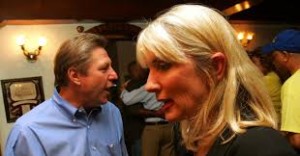 ……. the wily Rodstroms !
Rodstroms' long time friend and ally – attorney Bill Scherer –  successfully sued in Circuit Court this week to have the August Democratic primary opened to Republicans, because the only  candidate in the Republican primary did not live in the District,  (the District is mostly Coconut Creek, Margate, some of Coral Springs and Pompano Beach).
The Judge disqualified him, and said without a Republican running,  the republicans would be able to cross over and vote in the democratic primary.
Now there wouldn't be anything wrong with all that – except – candidate Charlotte Rodstrom herself doesn't live in the District !  The Rodstroms have lived on posh Nurmi Isles, off Las Olas for a long time, and no moving trucks have been spotted at their home! The irony!
Some pundits think that a sizable portion of the republicans might vote for Rodstrom ( her husband John was once a republican, head of the Young Republican Club), and that could swing the balance to Rodstrom.

John Rodstrom was in court to hear the news (pictured above). The Supervisor of Elections hasn't commented on whether she can pull off the change in time for the August primary, but is expected to make an announcement early next week.
Charlotte Rodstrom ( now going by the name Charlotte Elizabeth Rodstrom), might be back in the race!