It's still a slow news period for us – still steamy summer – but here are a few tidbits ……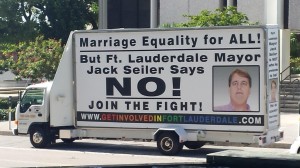 …… A rumor floats that perennial Seiler thorn Earl Rynerson's moving billboard received a traffic ticket as it circled the Mayor's State of the City address this past Thursday. I haven't heard back from Rynerson for verification, and the Police are mum.
                      ……… Rynerson
They should at least give Rynerson a ticket for using that old, heavier photo of Seiler if nothing else!
…………………………………………………………………………….
Crime stats for July came out this week, and the news is almost all good. Out of the nearly 100 neighborhoods in the City, only a handful saw any appreciable increases in crime over this time last year – But if you live in any of the neighborhoods below, you now have a better chance of a burglar invading your home or car – (and you should complain!)
Colee Hammock- CityView Townhomes- Chula Vista- Harbordale- Coral Ridge- Flager Heights- LakeRidge- Landings- Nurmi Isles – Victoria Park   …….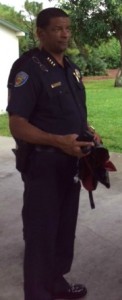 call Adderley
……….. Thankfully, the  South Middle River neighborhood continues its' remarkable recovery, with the home burglary rate down another 25%, with only 97 burglaries so far this year    …..   In comparison, Nurmi Isles ( the Las Olas neighborhood where the Rodstroms must no longer live in as Charlotte Rodstrom is running to be a County Commissioner for the Coconut Creek area) has seen an explosion of burglaries from their historical NONE, to SIX, so far this year.
……………………………………………………………………………….
………. A few nut-jobs continue to make a mockery of the City Commission meetings. One in particular signs up to speak on every item, and then rambles off topic until the Mayor eventually stops him. Something needs to be done –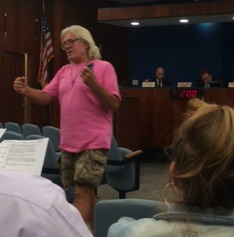 ………………………………………………………………………………..
………..  And lastly, the upcoming Funky Fun Run, a really fun 5K road race that will take place along 13th Street on Feb. 21, 2015, officially opened it's enrollment at this last Commission meeting (go to FunkyFunRun.org) ….  You may think it is too early, but with the prizes mounting, you should put on those running shoes ( or even buy some new ones).
…….  As you can see from the unabashedly self- promoting selfie below, I have been running 5Ks to get in shape, and got second place for my age category in one already ( and yes, there were more than two people in the race!).