Today, I  went for it ! …. I did it! …..
…. I  filed papers with the City to run for the Fort Lauderdale (District II)  City Commission  ! …. again !
I told you all in my last post that I was looking for something really productive to do, in my ripe old age of 61, and I decided that this is it !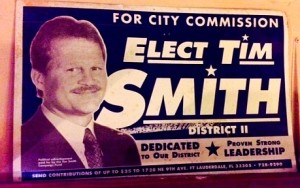 OK, sure …. that's my first yard sign from my very first campaign in 1997, but after all, I'm a fiscal conservative ! …
All joking aside, it's an especially challenging time for all of us in Fort Lauderdale. We have major infrastructure issues, the future growth of our  city needs to be planned, now, ….  public safety is, as always –  priority #1, …. and I hope you will find me the candidate best able to help get these important issues settled  … ….
More to follow  …..   call me anytime at  954-822-4727
……………  humbly, …. Tim