His name is Doug Blevins, and he is running for Mayor of Wilton Manors against the incumbent, Gary Resnick.
                                Blevins                                                                                 Resnick
Blevins, a realtor,  was the President of  the South Middle River Civic Association in Fort Lauderdale, and is often credited for starting the renaissance of that neighborhood. He took over the association with a paltry 14 members, and built it to a respectable 160 member organization.
Blevins took on the crime that has plagued SMR, fought with the City to do something about derelict properties,  and got the neighborhood working as a team.
Blevins moved to Wilton Manors and has been very active there also, serving on Boards, and running the Wilton Manors Main Street organization, that is pushing to take Wilton Drive from 4 lanes to 2 lanes. It looks like the reduction may happen, as the State has already made plans to "beef up" Dixie Highway, which is expected to take much of the traffic that now uses Wilton Drive.
Resnick
Resnick has been successful as Mayor of Wilton Manors, but may have overstayed his welcome. He first got elected to the W.M. City Commission in 1998, then was first elected as Mayor in 2008. There are no term limits in W.M..
Resnick, a lawyer, took criticism when he pushed to scale back the County Ethics law, that kept him from being a lobbyist for other cities while serving as Mayor.
I'm supporting Blevins. He is a true grass roots guy, and his passion and newness would be good for Wilton Manors.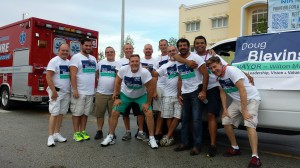 Here is Blevin's campaign crew, which I think might also double as the Gay Men's choir 🙂   …. Tim