Come one Come all !
This Saturday, July 5th, from 4pm until 7 pm
Join Police Chief Frank Adderley and the SmartWater company …..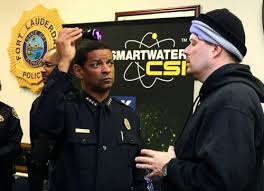 …… at the dock in Middle River Terrace (NE 18th Street and NE 8th Ave.) ….
.               …… Where you can get your SmartWater (free if you live in MRT, $30 if you don't)
……..  There will be a free bar-b-cue, free crime fighting tips, free entertainment from a livc band,
                                                                   Saturday July 5th
                                              NE 8th Avenue and NE 18th Street
                                                                 4pm until 7 pm
free food/entertainment…. SmartWater!
(rain or shine) …. call 954-822-4727 for more info