I've told you a few weeks back that our Police Chief is on a mission. This week he is still going strong.
Thursday evening, he brought a small contingent of his Officers and met up with members of the Middle River Terrace Improvement Club to hand out more Smartwater kits in the neighborhood that seems to be solving its' burglary epidemic.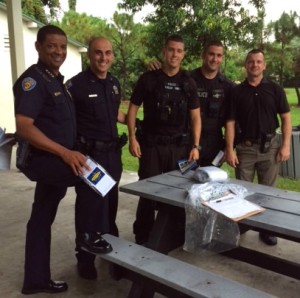 Despite it being an off/on rainy evening, the Police and Citizens managed to hand out another 32 kits before calling it a (wet) night. To date, nearly half the homes in Middle River Terrace now have the anti-crime forensic Smartwater.
As we all returned to the park to turn in our lists and go home, the Chief and one Officer were still not back.
"Don't worry", said the Detective " the Chief brought his umbrella" !