…… So Commissioner Dean Trantalis sent out an e-mail- invitation to supporters today that has left some wondering …..
Here is the invite –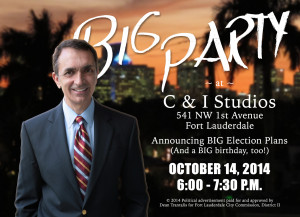 ……  I got a few calls and e-mails about the line in the invite where Trantalis  says – Announcing BIG Election Plans –
…..   The calls I got were like "BIG Plans? …He's running for Mayor isn't he , come on, tell me Tim!"
Though I do know the answer, I'm not going to ruin Deans' big  announcement by telling you here! ….  but I'll give you three guesses- how's that sound? …..  and we'll all know for sure Tuesday! Here's your choices –
1.) Trantalis has been picked by Charlie Christ to be his in house lawyer in Tallahassee?
or
2.) Trantalis is running for Mayor?
or
3.) Trantalis is running for his District II seat again, and just wanted a little drama ?
………………   what do you think?