Fort Lauderdale –  …… So much fun !
Tonight, as I've done for years, I got on my bicycle and headed downtown to watch the  Boat Parade!
But tonight would be different than the other years…. Sure, the Boat Parade was there alright –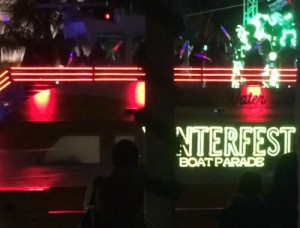 All lit up, big crowds  …. sensational as usual  ….  but something was far different tonight…..  Blocks before I got to the river, there were big crowds in the streets!  …And I mean IN the streets!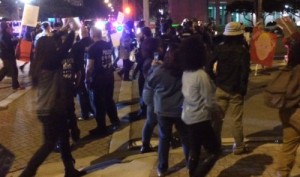 I thought right away  – this isn't part of Winterfest ….. What was this  parade all about?  …. Was  it a political rally?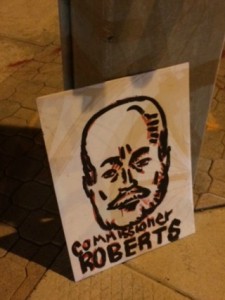 After-all, there was that odd Commissioner Roberts sign that someone from the crowd had left behind, leaned up against a light pole!
And then the biggy-big sign of the Mayor !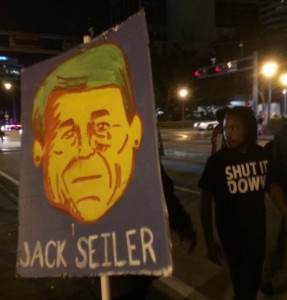 And this was no ordinary crowd, as crowds go……  No!  … Kind of a motley crowd!  … But I tell ya, they had one hell of a Police detail with them!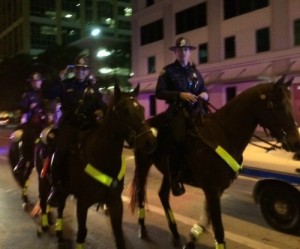 Mounted Patrol, SWAT, Patrol cars by the dozens! ….Must have been 100 cops !  ….All following "the crowd".
The crowd was moving in unison, like a big lizard, and they were all chanting together that they couldn't breathe …."I can't breathe –  I can't breathe, I can't breathe"! Maybe it was the United Asthma Foundation or something!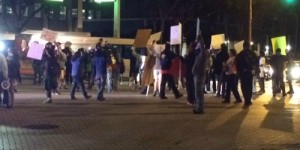 Anyhow, they all turned down Las Olas, and I went on straight to the river to watch the boats –
Seemed our FLPD had everything firmly under control 🙂
Fort Lauderdale – So much fun !!