……………………………………. Fort Lauderdale – the History………………………………………
……..  Before we get back to politics, and the hard driving issues that affect us here in Fort Lauderdale, let's take a minute and just feel good about our life and times !
………. The Play, Fort Lauderdale – the History,  took place last Sunday. It was produced by the 13th Street Alliance, held at the cherished 1915 Annie Beck House ( which was saved and is owned by the Broward Trust for Historic Preservation), and was an unqualified  blast! …  (Did I mention that I wrote the play?) …. Oh yea, I guess I did 🙂
Anyhow, here are some pictures from the play, all taken by the talent extraordinaire , Cal Deal.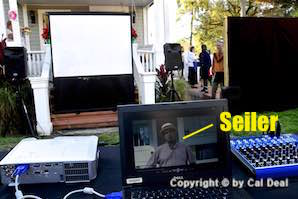 Mayor Seiler couldn't be there, but prerecorded an opening welcome.
Police Chief Frank Adderley played the first non-native person to live in Fort Lauderdale  –  joined here by his play wife, Sheryl Dickey.
Our newest Commissioner, Robert Mckinzie, played Doc Sistrunk.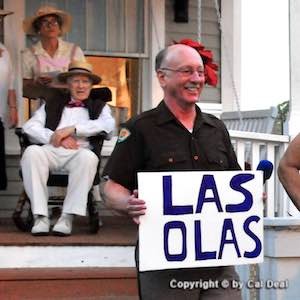 Commissioner Bruce Roberts had multiple roles, here he is as the town's first Top Cop, Marshall Kossie Goodbread!
I'm giving the Tony Award to Commissioner Romney Rogers,  seen here enacting the suicide of town father Frank Stranahan.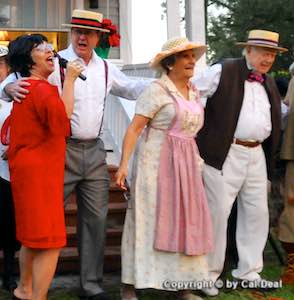 The closing ACT, with Council of Fort Lauderdale Civic Associations' President Marilyn Mammano,  lip syncing Connie Francis's Where the Boys Are …. with Stranahan and Annie and Alfred Beck (Bill and Diane Smart).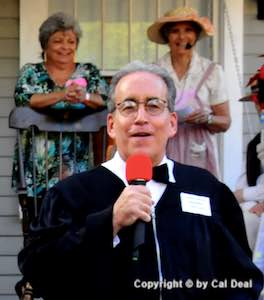 Broward Trust President Steve Glassman in his role as Judge Fred Shippey!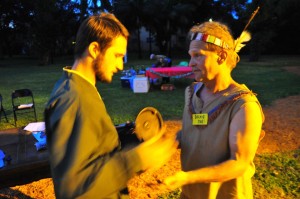 And lastly, a shot taken right after the play of me and my son Tim Smith, who received an award for his monthly donations to the 13th Street Alliance, from his store –  Oddballs Nifty Thrift, 530 NE 13th Street …… (excuse the shameless plug!)
If you want to see more great pics, go to Cal Deals' site-  http://fortlauderdaleobserver.com/HistoryPlay/      …… and the whole play is now up on You Tube at http://youtu.be/lcZMA9KmgIA   ……
………Tim