…. I was beginning to wonder whether this 100 year old house, one of the very oldest remaining in the city, would ever get finished with its renovations.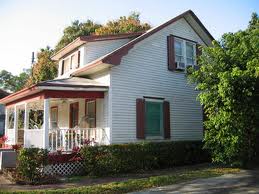 …….  this is the house as it was in 1916, the home of the infamous second Judge of Broward, Judge Shippey   …. he was the "marrying Judge", actually married Tarzan in the house ( no, not to Jane).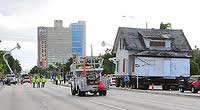 ……  this is the house being relocated to the historic district, about 5 years ago ….it was in very bad shape!
… as it arrived to its new home, in very bad shape,  in the historic district ..
…. i hear there were hundreds of thousands of dollars, and boodles of volunteer hours, spent moving, renovating, landscaping, furnishing etc…. ( second photo  is Jessica, a social worker who moved here from New York,  just in time to help with the landscaping !)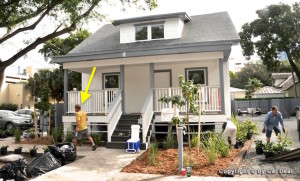 …..  yes, that's me on left  – chief landscaping volunteer, with house nearly complete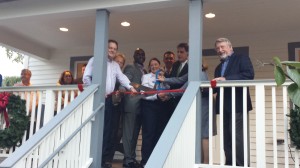 …..   and here is the ribbon cutting, all big-shots smiling, proving that the effort was a success!
…………… congrats to us all ! ( and thanks to Cal Deal,for all his photos)