…….. Fort Lauderdale Police Chief Frank Adderley announced to his department today that he is leaving his post. He will be taking an administration job at BSO ( Broward's Sheriffs Office) . Keep reading to find out why!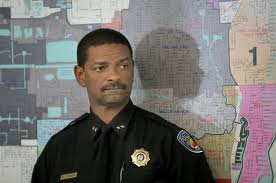 …. Adderley's 8 years as Chief of Police followed a thirty some years climb up the ladder that started as a regular patrolman. The Chief grew up in NW Fort Lauderdale.  He lives there today,  in the house he grew up in, after a tumultuous divorce had him leave the Plantation home he lived in with his family ( the Plantation home happens to be next door to District III's Commissioner Robert McKinzie's home).
……Adderley's years as Chief is widely considered to have been a successful run.  Crime plummeted during the Chief's tenure.  The Chief was known  as a very accesible Chief, and was also popular with his men and women in blue. He joined in neighborhood crime marches, held fish frys to bring together neighbors in the NW, and even agreed to play the part of the first Fort Lauderdale resident in an historical play written  and directed by yours truly :-).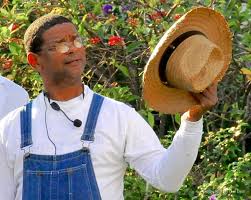 ….   Adderley the actor !
…. The Chief's most difficult time on the force occurred when his wife at the time, suspecting marital infidelity, burst into the bedroom, grabbed the Chief's service revolver, and began firing. Adderley lept up in his underwear, and dodged the bullets and made it safely to his neighbor's home (McKinzie).
…… His wife, pictured above, served some time for the offense, even though the Chief asked that she not be charged.
…….    The Chief tells me he is leaving as Chief due to an impasse with the City lawyers concerning his, and 20 other City employees' pay.    Apparently, the City lawyers decided that the City  had been paying the Chief and the others too much, as an IRS regulation on former employees receiving pensions and being rehired went overlooked for three years, and were attempting a $60,000 clawback if the Chief stayed on.
…. (I think I got all this right, although I wasn't taking notes), and legal action in the cases is also pending.
……….   the Chief will be missed.