…..It was the cryptic wording of the Commissioner Dean Trantalis invite that had some wondering.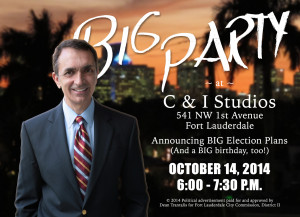 …… Just what were those BIG Election Plans? Well, last night it was revealed, at Trantalis's Big Party!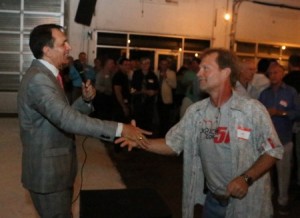 Trantalis greeting me last night
……  The announcement was made in a big warehouse in Fat Village, after a nice party that seemed more like a geriatric discotheque than a political gathering!  Loud dance music blared, and the red wine flowed freely –
……..   Then Trantalis took to the microphone and announced –    #3  (see previous post for the answer)
……… I then was asked to lead a nice rendition of Happy Birthday to Trantalis, that I did happily.